B2B
B2C
eCommerce
Omnicanalidad
headless
in a way.
BigCommerce is the leading open, flexible, modern, and scalable software-as-a-service (SaaS) e-commerce platform that empowers merchants of all sizes to create, innovate, and grow their businesses online. It offers multiple solutions by use case and by industry.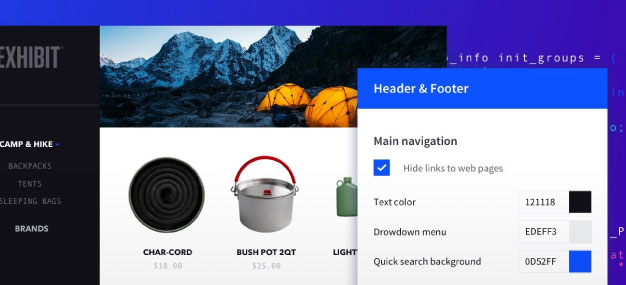 Visual
editor
Build your page with the drag and drop option, and without knowing any programming.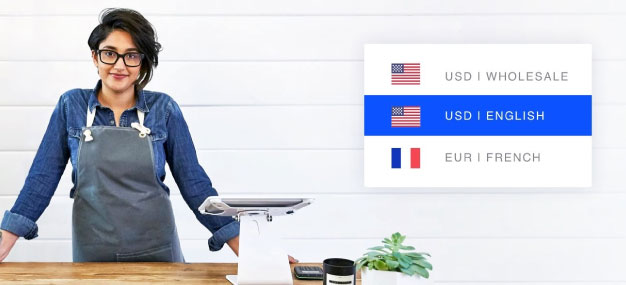 Payment
customization
Personalized payment process with the help of a high-performance API and a server payment SDK.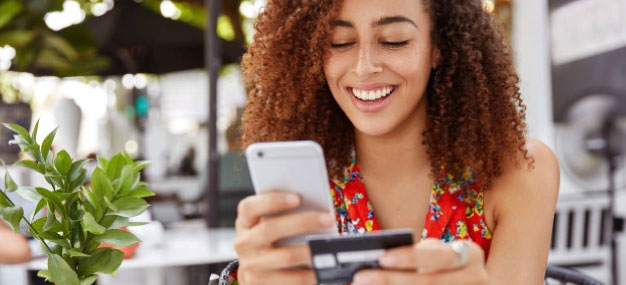 Mobile
optimization
Build a mobile-friendly website, from home page to sale close.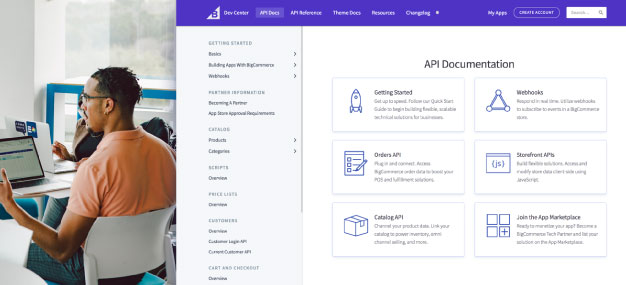 Preview
& WordPress
Access to the Stencil CLI tool to test and push changes. As well as allowing the full enablement of the back-end platform.
BigCommerce is ideal for the B2B market or that hybrid model B2B/B2C. Like B2C stores, B2B websites serve various customer segments, which vary in size, industry, and operating budgets.
They incorporated the bundle B2B into their offer which comes with some pretty cool out-of-the-box features like for example "delegated purchasing". This gives sales representatives the ability to log in on behalf of a company; share shopping lists; have senior buyers with approval capabilities, and other advantages.
Get a full set of key B2B features and enhance the B2B self-service experience for store owners and customers alike.
BigCommerce offers a wide variety of Apps and you can integrate them easily. In many cases almost plug-and-play.
They also offer a lightning speed API which is 100 times faster than other industry leaders. You might wonder how relevant that might be. But when you are connected to an ERP and want to sync data it can make all the difference. If you are updating specific fields or pricing for 25,000 items, this could take over 4 hours on some of the most powerful platforms or even days on some other eCommerce platforms. While in BigCommerce you'll be done in under a minute.
When it comes to SEO, BigCommerce offers you very flexible possibilities. To mention just a few features that BigCommerce offers; for example, if you need to create your own URL structures they ensure that every unique page has only one URL, so you don't get punished for duplicate content, and they have microdata or rich snippets built into your product pages. This gives you the possibility to display reviews, stocks, prices, or other relevant data directly into Google Search results. And you know how important this is for improving your organic traffic.
Great customization capacity
BigCommerce is a self-hosted eCommerce solution that allows you to customize your cart and make it look the way you want it to. Most importantly, the shopping cart offers code-free upgrades that will save you a lot of time in managing your online store. Additionally, this solution gives you the opportunity to use the common coding languages ​​that make BigCommerce the platform of choice among professional developers. The platform allows editing of the HTML/CSS of the template you have chosen through the browser's editor.
Our Open SaaS solution combines the best of SaaS and API enabled openness and flexibility, giving you the enterprise integrations and tools you need to customize faster.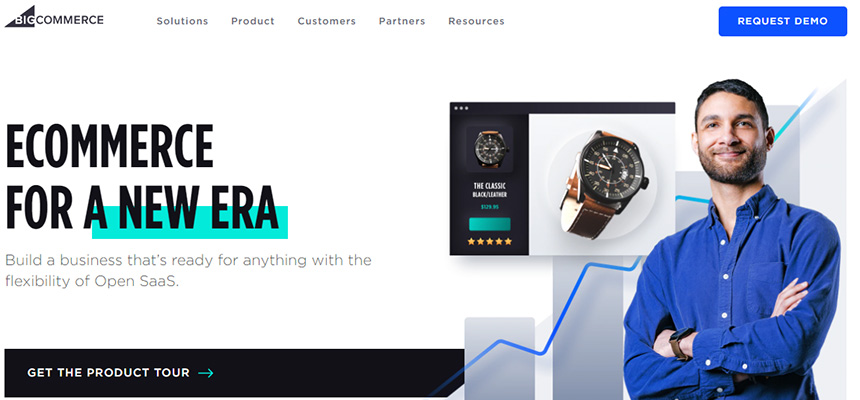 The industry's most versatile solution for innovative ecommerce.
Create a robust, differentiated commerce experience without compromising security, stability or scalability. The openness and power of the BigCommerce platform empower you to focus on optimizing your business for growth.
TESTIMONIALS
BigCommerce is the most trusted commerce solution provider.
SKULLCANDY

``Now that we have seen how the scalability of BigCommerce performs in terms of its ability to handle increased transaction volume and velocity, we´re even more convinced it was the best solution for us to build on``.
BURROW

``Since our launch on BigCommerce in July 2019, Burrow has evolved from a single product, single channel, single vendor business to a multi-product, multi-channel, multi-vendor business, and our previous ecommerce platform just wasn´t capable of handling those changes``.
SADDLEBACK LEATHER COMPANY

``BigCommerce gives their customers a roadmap for improvement instead of taking them to the platform and then letting them figure it out for themselves.``