Talend
Talend
Talend
Data integration
Data integration
Data integration
A complete, scalable data management solution,
In 2005, the information marketplace was at a crossroads. While the rest of the industry was gravitating to complex and costly integration products, Talend founders Fabrice Bonan and Bertrand Diard believed there was another way: something simple, powerful, flexible, and scalable. Their solution was the first commercial low code, open-source data integration software.
In 2006 Talend launched Open Studio, currently known as Talend Open Studio for data integration.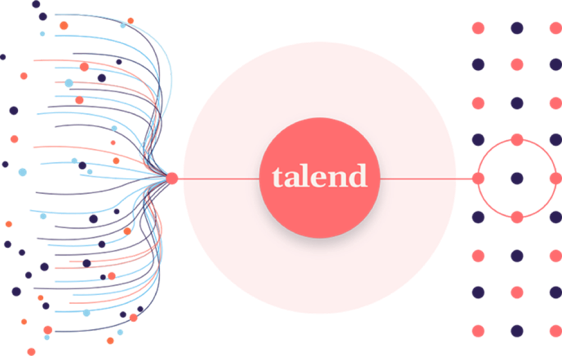 Leader
in Data Integration and Data Integrity.
Industry-leading platform that supports the full data lifecycle while delivering clear and predictable value. It offers two products: Talend Data Fabric, the unified platform for reliable, accessible data; and Stitch, fully-managed data pipeline for analytics.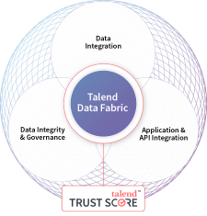 End-to-end data integration
and data management
Talend Data Fabric combines data integration, data integrity, and data governance in a single, low-code platform that works with virtually any data source and data architecture.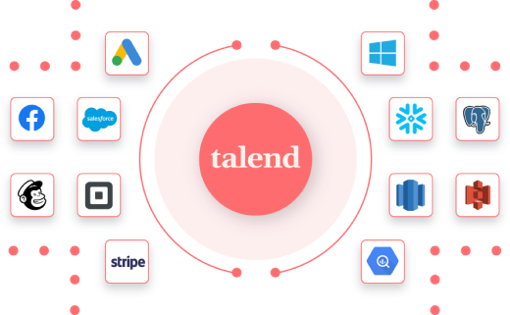 The data ecosystem
that delivers
Whatever your data environment, Talend helps you get even more value through deep partnerships and integrations with top technology providers including AWS, Microsoft Azure, Snowflake, and more.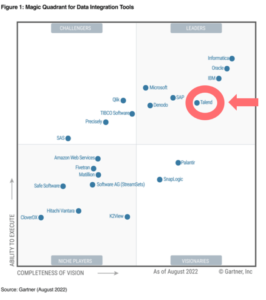 Team with a
Magic Quadrant™ Leader
Talend was named a Leader for the 7th year in a row. Find out why in the 2022 Gartner® Magic Quadrant™ for Data Integration Tools report.
Don't leave your business decisions up to destiny
Talend helps you deliver healthy data across your organization so you can change the way your business makes decisions. Drive business outcomes with a unified platform that can support your data needs at any scale or complexity. As a cloud-independent solution, Talend helps organizations seamlessly work across any cloud provider or with on-premises data.
Make decisions based on data, not guesswork
Talend combines data integration, integrity, and governance in a single, unified platform that delivers the full value of your data for your activity.
Improve customer experience by enabling analytics
Save resources by accelerating operational data
Modernize cloud and data so your business can grow
Reduce risk and establish data excellence
Accelerate time to insights
With our robust services infrastructure, comprised of Talend services and a network of partner services, you can get up and running and drive business insights with speed and agility. Alliances with Snowflake, AWS, Microsoft Azure, Google Cloud Platform and others ensure seamless performance across your data infrastructure, while strategic relationships with leading advisors including Accenture can help you accelerate your digital transformation.
Talend is changing the way the world makes decisions.
Bad data puts every decision at risk. See how Talend can help you transform your data from a liability into an opportunity.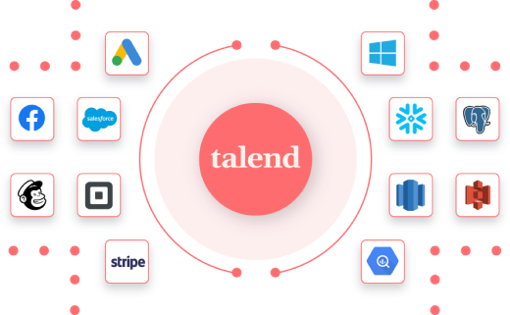 FUNCTIONAL
Explore Talend´s
data integration capabilities
Talend Data Fabric combines a suite of best-in-class data integration capabilities to give you enhanced insight and control over your data.
Testimonials
Meet the Talend customers
who turn data into results...
Lenovo

"Talend gave us the real automation we needed, along with collation, massaging, cleansing, scheduled jobs and more. The execution was really smooth."
Domino's Pizza

"We've become an e-commerce company that sells pizza. Talend has helped us make that digital transformation."
PT Bank Danamon

"Using data, we want to make sure once a customer opens a relationship with us, that our products and our bank remain top of mind."
Contacto
¿Preguntas?


Contáctanos.